We can do anything - and never say no!
Special work tasks require special scaffolding. For bridges, chimneys and very high work, we therefore build special scaffolding, which provides access and at the same time disturbs others as little as possible. For the removal of asbestos and PCBs, we have environmental scaffolding, which secures tradespeople's working environment.
Environmental scaffolding for PCB and asbestos removal
There are many requirements for asbestos removal, and removing asbestos and PCBs without creating risks to tradespeople requires special equipment. Environmental scaffolding is created to secure the work area and avoid the spread of asbestos dust to other areas. After use, the environmental titles are disposed of in landfills.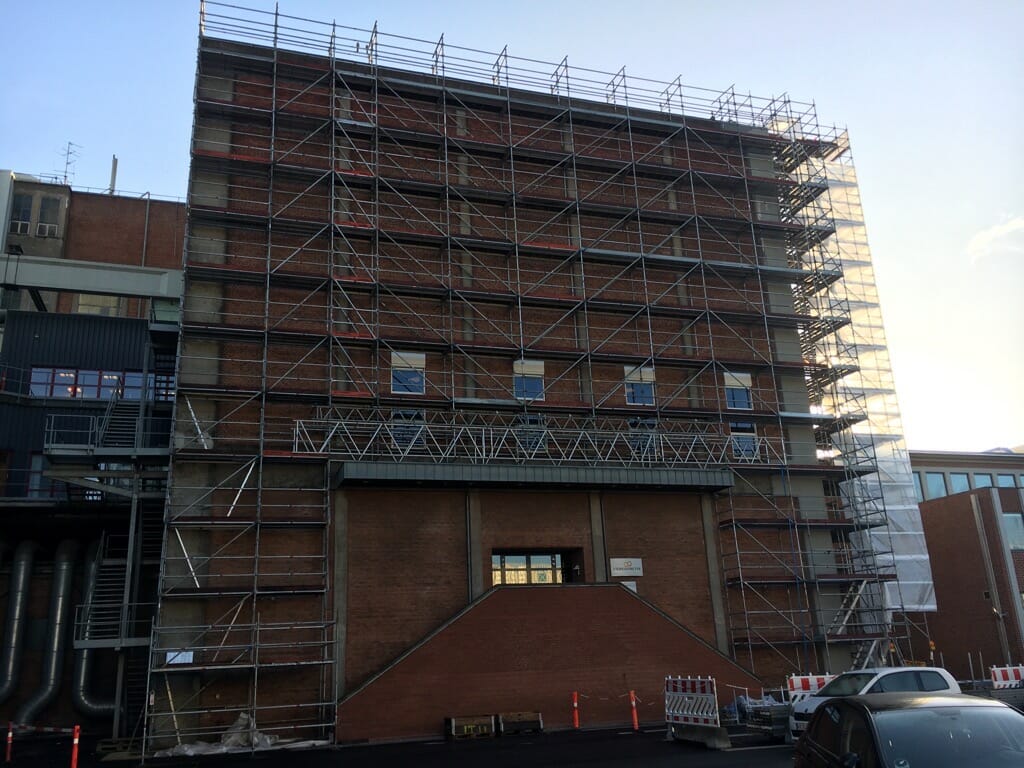 Heavy load scaffolding with high load capacity
A heavy load scaffold is used for jobs where the load requirement is higher than the 6 normal load classes. This can be the case, for example, for brickwork, where bricks and mortar must be stored in several places on the scaffolding in a way that increases the load.
Smaller sections of scaffolding can also be heavy-load approved, so materials can be stored on the material platform and distributed only to the regular scaffolding as needed.
Heavy-load scaffolding is special scaffolding with no standard solution. That is why we calculate a solution that suits your needs – no more and no less. There are almost no limits to how much load capacity we can build the scaffolding to have, and based on soil conditions, material requirements and access requirements, we can create a solution that matches your construction.
Read more about heavy load scaffolding under industrial scaffolding here and charging towers here.
Scaffolding for roofs and ceilings
If it is not necessary to keep the floor free, a rolling platform is a flexible solution for working at height. Rolling platforms are used, for example, for ceiling work in sports halls and industrial halls where floors are free. They are easy to move and are therefore more mobile than other types of scaffolding. Therefore, it is both easier and cheaper to use a rolling platform if the work means it is suitable.
For work on top of a roof, we can use chimney scaffolding, which is mounted on the roof. Chimney scaffolding provides full access around a chimney, so that bricklayers and other tradespeople can work efficiently and safely on the roof. Because chimney scaffolding is mounted on the roof, covering is not required as it is on a bridge scaffolding.
Scaffolding for bridges and chimneys
Bridge scaffolding is used for, among other things, the repair and maintenance of railway and motorway bridges, including painting and sandblasting. Therefore, bridge scaffolding is often tightly enclosed so that residue and waste from the work does not end up on the roadway or rails, or in the water.
Bridge scaffolding can stand on the ground, but it is usually more practical to use suspended scaffolding, which is suspended on chains, steel pipes or the like. Suspended scaffolding provides a safe and stable work platform without disturbing the traffic under the bridge. herefore, suspended scaffolding is also used in the industry where ordinary scaffolding for work at height would disrupt the operation on the floor. Read more about scaffolding for the industry here
If you have a job that requires special scaffolding, call us for a good suggestion for a solution.